---
(Free 165 Minute Audio) VSN Arcade Podcast: Games of the Generation Continued

By Vinny "Iammedellin" Rodriguez and Crew Nov 21, 2013 - 10:16 AM
---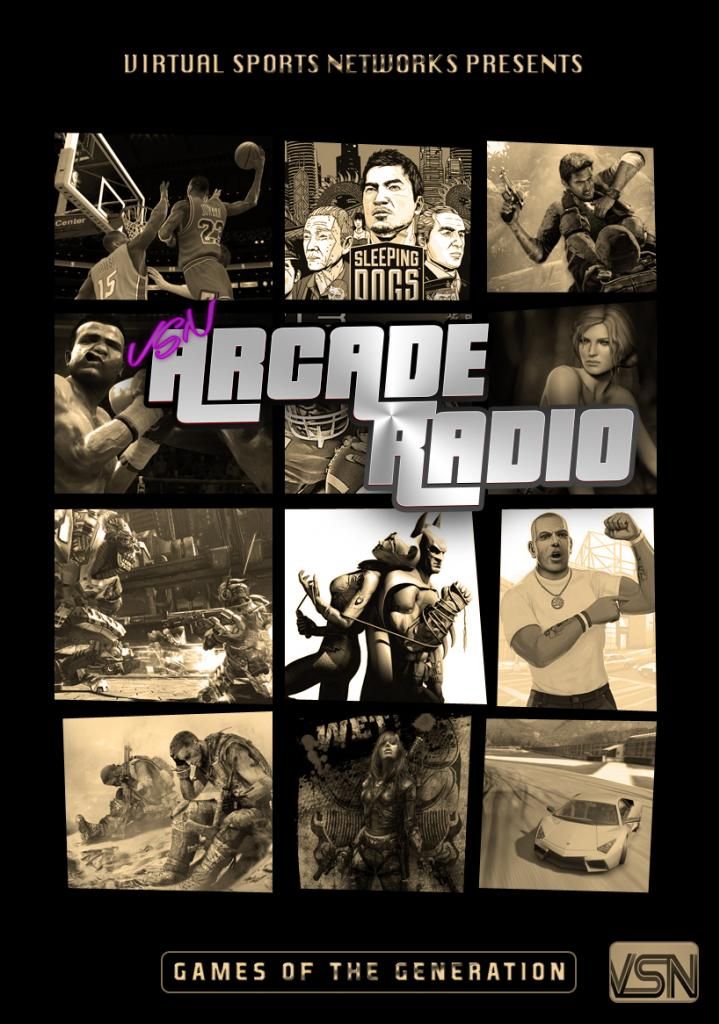 Episode 77:
Games of the Generation - Segment 3


The VSN Arcade Radio guys are back for our 3rd segment in the Games of the Generation discussion. IamMedellin does a fine job hosting as Swarley, KNUBB and Rollie Fingers himself, err, I mean Bomberooski, join for some great discussion looking back on this current generation of gaming.
Agenda:
Favorite Characters and Voice Actors

Best Exclusives

Best Downloadables

Best Fighting

Batman: Arkham Origins (Spoiler Free)
Come back next week for our final segment in the series as we finally crown our #1 Game of the Generation. Thanks for tuning it again and give us some feedback on our Twitter page, @VSNArcadeRadio.
Listen to the episode on Podomatic:
Download the episode on iTunes:
Follow VSN Arcade Radio on Twitter:
Episode 78:
Games of the Generation - Segment 4



VSN Arcade Radio welcomes you back for our final segment of Games of the Generation. Today we crown our Game of the Generation. JayDizzle is back on the hosting duties as he's joined by Swarley, IamMedellin and KNUBB.
Agenda:
Thanks for the continued support and to our returning listeners. Stay tuned to the show the rest of this month for coverage on the next-gen launches.
Stay tuned for #79 where The Podcast Crew surveys the aftermath of the Next Gen Launch
---
---
blog comments powered by Disqus
| | |
| --- | --- |
| My Son Lucas JG's Facebook Insanity: Let's Infuriate Your Friends (33 Minutes) James Guttman's Free 2009 Interview With Mr. Fuji JG's 10/19/15 Raw Insanity: Hell of a Sell JG's 10/5/15 Raw Insanity: Flashing The Brock Signal JG's Insanity: The 12th Annual WWE Memorial Day Barbecue JG's Insanity: The 11th Annual WWE Memorial Day Barbecue JG's Ten Facebook Posts To Annoy Your Friends JG's Ten Beloved TV Characters Who Were Obvious Psychopaths JG's 10 More Fun Ways To Infuriate People Online JG's Ten Insider Wrestling Terms You Shouldn't Use When Talking About Something Besides Wrestling JG's Insanity: The 10th Annual WWE Memorial Day Barbecue JG's Ten Demented Ways We Misused Our Toys JG's 15 Fun Ways To Infuriate People Online JG's Ten Sesame Street Muppets That Are Missing And Presumed Dead JG's Scene From WWE Raw (After Vince McMahon Goes Senile) JG's Ten Signs You Were A Wrestling Fan Of The 1980s JG's Insanity: Stone Cold's Greatest Moments (Without Stone Cold) JG's Ten Wrestling Moves That Really Hurt When You Try Them At Home JG's Insanity: Everybody Is Tito Santana JG's Ten Reasons Why WWF LJN Figures Were The Greatest Toys Ever JG's Ten Judges Who Would Make American Idol Worth Watching JG's 2012 in Pictures (As Hulk Hogan Will Remember It) JG's Quintuple Bypass Surgery Insanity JG's Five Episodes of Diff'rent Strokes That Scarred Me For Life JG's Ten Facebook Posts That Are Slowly Driving Me Crazy JG's Ten Truly Terrible Reality Competition Shows JG's Ten 1980s TV Characters Who Taught Me To Hate JG's Ten Wrestling Characters Who Went Through Massive Personality Changes JG's Ten Old School Wrestlers Who Would Terrorize Today's PG WWE | The Challenge: Final Reckoning - Episode 2 TGIF: A New Day For Hulk, MLW's Major League Potential, and More The ROHbot Report: Nashville Return, Top Contenders 6-Man Gauntlet, And More The Challenge: Final Reckoning - Episode 1 TGIF: Japanese Garden Party of Honor, Rib JR's Rib, and More The ROHbot Report: Bully-Burger Steal the Show, NWA Title in ROH, And More Anime Verdict: Street Fighter 2 The Animated Movie TGIF: Hug Therapy, Down Goes Dalton, and More The ROHbot Report: Best in the World Review, Fairfax TV Tapings, And More TGIF: Dog Bites Artist, All Them, and More The Challenge: Champs vs. Stars 3 - Finale & Reunion The ROHbot Report: Best in the World '18, TV Classic Main Event, And More TGIF: Cass'd Away, DIY Does It Again, and More The ROHbot Report: State of the Art Reviews, ROH International Cup, And More The Challenge: Champs vs. Stars 3 - Episode 9 TGIF: The Greatest Professional Wrestling Match Of All Time The ROHbot Report: San Antonio/Dallas Previews, Bullies Dominate, and More The Challenge: Champs vs. Stars 3 - Episode 8 TGIF: CM Punk Gets One More WWE Victory, Constable Corbin, and More The ROHbot Report: Austin Aries Goes For The Gold, NY TV Results, And More Solo: A Star Wars Story Review TGIF: You Can't Teach Rap, NBC's World Wrestling Embarrassed, and More The Challenge: Champs vs. Stars 3 - Episode 7 The ROHbot Report: UK Tour Reviews, TV Recap, And More The Challenge: Champs vs. Stars - Episode 6 TGIF:The Lashley Girls Kill RAW, Merging Impact, and More The ROHbot Report: Honor United Previews, ROH TV Episode 348, And More The Challenge: Champs vs. Stars 3 - Episode 5 TGIF: Nia Gets Rowdy, All In All Sold Out, and More The Challenge: Champs vs. Stars 3 - Episode 4 |
Even More From This Category
>>